10 Gifts To Get For A Beer Lover
Need to find a great or original gift for a beer drinker? Add a touch of fun and personality to social events, parties, and family get-togethers with one of these fun and lighthearted gifts. These customisable presents can be used to celebrate special occasions or events with style. Bring a smile to your friend or relative's face and choose from one of these entertaining and personalised gifts for the beer lover in your life.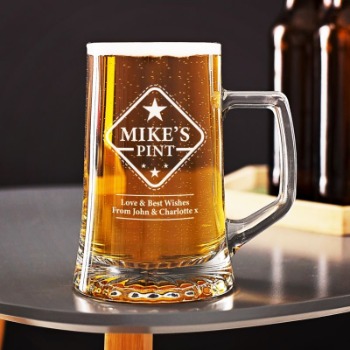 Perfect for a birthday gift for your special someone. This solid glass tankard can be engraved with a personalised message for your family member, relative, or friend. Each line of engraving can be up to 20 characters for you to add your own special birthday or celebration message. Making this the perfect glass to commemorate any occasion. This sturdy beer mug comes in its own lined gift box.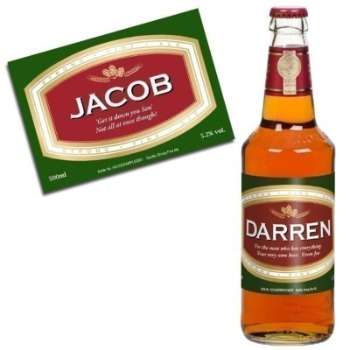 Create a personal gift for your beer-drinking man or woman by adding your recipient's name to the bottle. This fun gift creates a special present for anyone you know that is a beer lover. Bottles are available that contain lager, cider, or beer so you can choose their drink of choice. Add your own special message along with your recipient's name to the classic label to create a unique birthday or work gift. This 500ml bottle can be used to celebrate any occasion and it arrives in a presentation box to complete the package.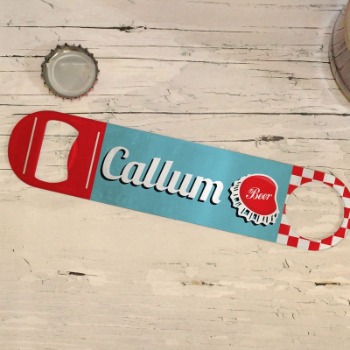 A great gift for the budding bartender! This fun retro design bar blade is made from sturdy stainless steel and makes opening beer bottles fast and easy. Add any name up to 15 characters and send a gift that's practical as well as amusing. Make this bar blade a special gift to have on hand for the next time your friend or relative needs to pop a top from their beer bottle.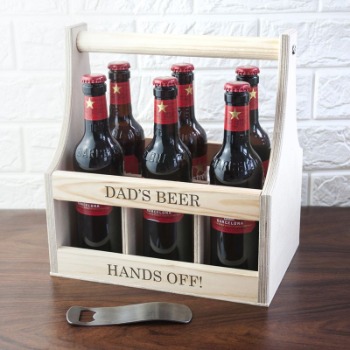 Arrive at your next garden party or barbecue in style with this personalised wooden beer trug. This handy case is designed to transport up to 6 large bottles of beer or cider. It can be engraved with up to 35 characters for you to add your own special message. Crafted from sustainable pine wood it is a stylish way to tote your grog! Make a special gift for Dad or your other half with this stylish beer carrier.
No man-cave or basement bar is complete without its very own beer plaque. This fun and stylish wall art is a perfect present for any beer-loving gent. The modern plaque can be personalised with the recipient's name for a fun and unique gift. Easy to attach to the wall with just 2 screws, this plaque complete with a built-in bottle opener can be proudly displayed in the home or garden to make a lighthearted conversation piece.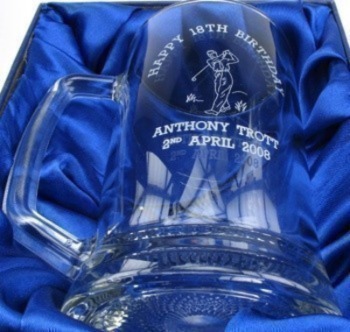 For the avid golfing fan this glass beer tankard will make the perfect birthday present. Great for sporty beer lovers, this versatile gift can be engraved with any special birthday date and a message of your choice. Use it to commemorate an 18th, 50th, or 75th birthday with your own personal wishes inscribed. This solid golfing-themed tankard is 15cm tall and comes in a satin-lined presentation box.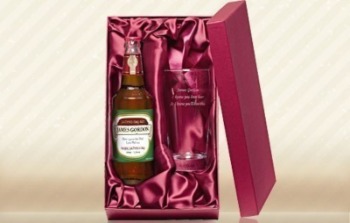 Make Dad feel extra special this Father's Day with his very own customised bottle of fine ale. This bottle of premium malt beer includes a personalised classic beer label displaying Dad's name and an engraved glass that contains your personal message. Tell Dad what he means to you with this thoughtful gift. The beer and glass set comes in a red silk-lined presentation box to add a classic touch.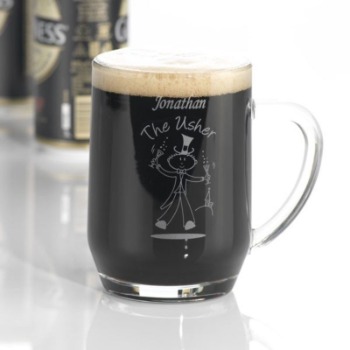 Add some fun to your big day with this engravable wedding tankard. Can be used as a personalised thank you gift for members of the wedding party and is a lovely memento of the day. Glasses are engraved with a cartoon style illustration that can be customised for the following wedding attendees:
Best Man

Usher

Father of the Bride

Father of the Groom

Brother of the Bride

Brother of the Groom

Groomsman

Groom
This is a special and entertaining gift that can be shared as a lasting keepsake of your wedding day.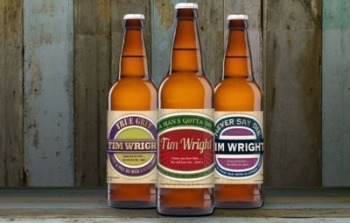 Need something a bit different? Make a personal and poignant gift using these personalised beer bottles. Along with the name of your recipient, each bottle of this quality Yorkshire pale ale contains a motto on each of the three classic bottles. 'True Grit', 'Never Say Die', and 'A Man's Gotta Do' quotes embellish the different coloured labels and make a perfect present for the tough, beer-drinking guy in your life.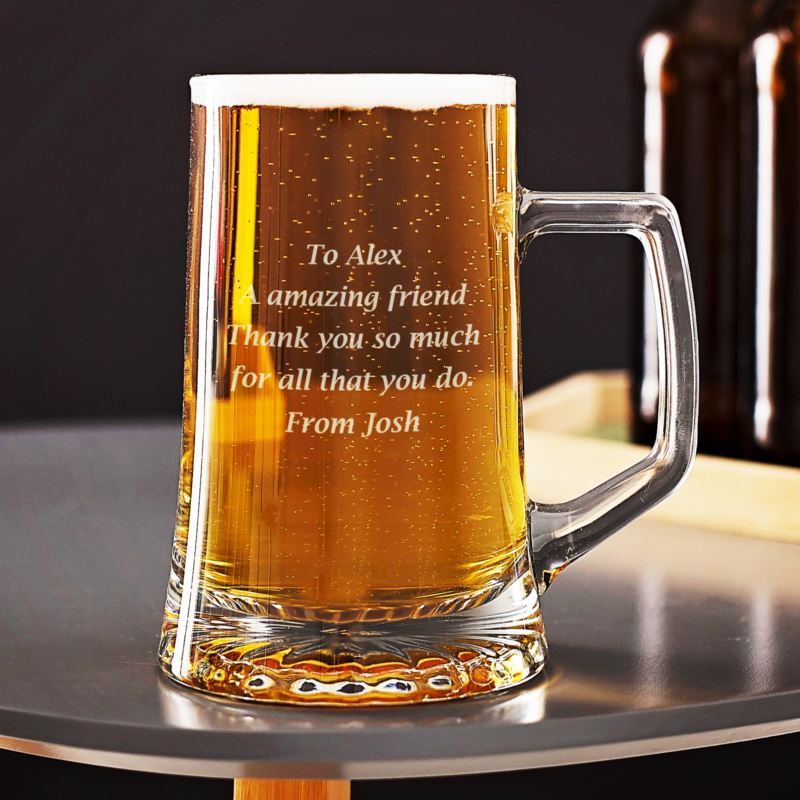 If you would like a gift with a message that is a bit more special than the usual birthday or greeting card, then this engravable tankard is perfect. It can be engraved and used to convey a message of your choice for any number of notable occasions. From retirement to a new job or a new home, add your heartfelt message with 5 customisable lines of text and make this a present that will be cherished for years to come.